2013.06.06 Thursday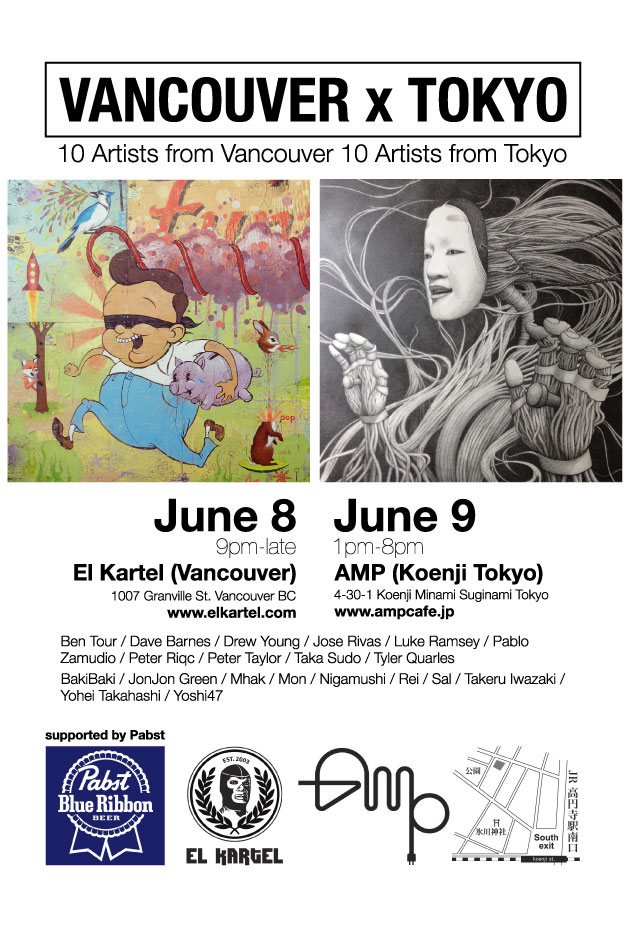 Vancouver x Tokyo
June 9th 1pm-8pm
:
AMP
(Tokyo)
Artists:
Vancouver:
Art Show which is showcasing 10 artists from Vancouver and 10 artists from Tokyo.
Each artists creates 2 pieces of artworks on 24"x24" panels, one piece is exhibited in Vancouver and another in Tokyo.
Each show venue, El Kartel (Vancouver) and AMP (Tokyo), opens shows at the same time to celebrate great culture each other.
"Vancouver x Tokyo" is the art show which tries to manifesto creativity can go beyond any borders easily and people can meet, inspire each other and understand each other anywhere through great creativity and great culture.
Opening at El Kartel on Saturday June 8th 9pm-late.
Opening at AMP on Sunday June 9th 1pm-8pm.
This will be great show and super fun night! Come by El Kartel if you're around Vancouver!!
東京を代表するアーティスト10名とバンクーバーを代表
するアーティスト10名によるグループアートショー。


各アーティストは 60cm x 60cm のアートワークを2点ずつ制作し、1点を東京で、もう1

点をバンクーバーで展示します。


それぞれのショー会場は同じ6月第2週の週末にオープニ

ングパーティーを開催。


このアートショーを通して、すぐれたクリエイティビティ

は簡単にどんな国境も越えていけること、そして人は世界

のどこでも、クリエイティビティと魅力的な文化がある限

りお互いをインスパイアし合うことができることを証明し

たいと思っています。

6/9日(日)の午後、高円寺のAMPにぜひ遊びに来てください!!